Kao merit Hair Care Shampoo Brush~
It is one of KAO's signature products and fifth most sold product in the Japan's shampoo market.
A shampoo brush that reaches all the way to scalp where fingers can't.
The brush is designed for easy combing and fewer tangles in children's and long hair.
The bristle tips are also soft and gentle on the skin.
Even in the hottest day, you can stay cool with Merit Rinse-in Brush.
Shampoo Brush cleanses and moisturise the scalp and hair, preventing itchiness and dandruff.
FEATURES
Soft brush tip which will not damage the skin
Small size and easy to use for mothers and children
Three kinds of brushes working on pores, roots, scalp
Gently scrape the dirt on the pores
Firmly remove the dirt on the root
Massage the scalp comfortably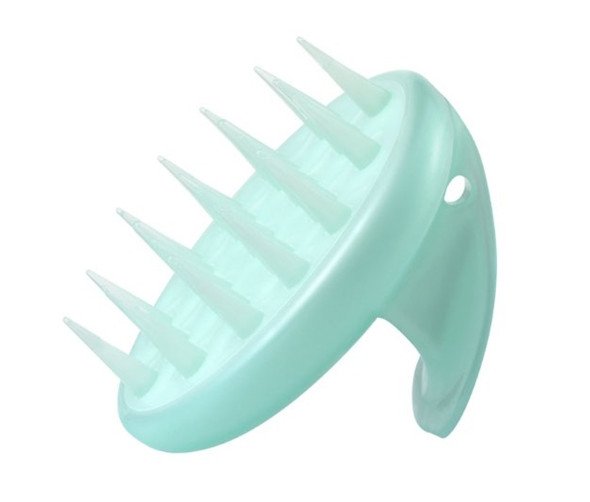 花王merit头皮护理洗发梳按摩梳
经常按摩头皮,能够促进头皮的血液循环,
这款按摩梳在按摩头皮的同时,
能够深层的去除发根污垢,令秀发生长的更加健康,
洗净头皮多余油脂,避免油脂堵塞毛孔,坚持使用可以改善溢脂性脱发哦。
也适合爱惜指甲的美女,不用再为手指按摩发愁,
这款绿色按摩梳特制柔软刷头,小孩幼嫩的头皮也适用哦。
一家人都可以使用~
产品特点
1 三种形状的梳齿交错搭配,更充分接触头皮,
按摩头皮的同时洗净发根污垢并去除头皮毛孔的油垢,
将手指难以洗去的头皮深层污垢很轻松地洗掉。
2 柔软刷齿,通过按摩深层清洁头皮、毛囊,促进头皮血液循环,让头皮更健康,
从而保证头发的健康,并防止脱发,头屑等问题。
3 亲子安全柔软设计,妈妈宝宝都可以使用。
适宜人群
头皮油腻,工作压力大的人群,宝宝可用。
使用方法
1 将洗发水充分起泡,均匀涂在头皮以及头发上。
2 用洗发梳轻柔按摩3分钟。
3 按摩结束后冲洗掉洗发水即可进行后续的头发保养。
短发可以清洗头发时候直接使用,
长发建议先洗一遍头发,然后第二次用洗发水均匀涂抹在头发上,再使用梳子按摩。
不要打圈按摩哦,打圈按摩会让头发纠缠在一起,建议上下、左右方向有规律地使用。
注意事项
梳齿柔软,使用后要倒置保管,避免损坏梳齿。
幼儿请在家长的陪同下使用。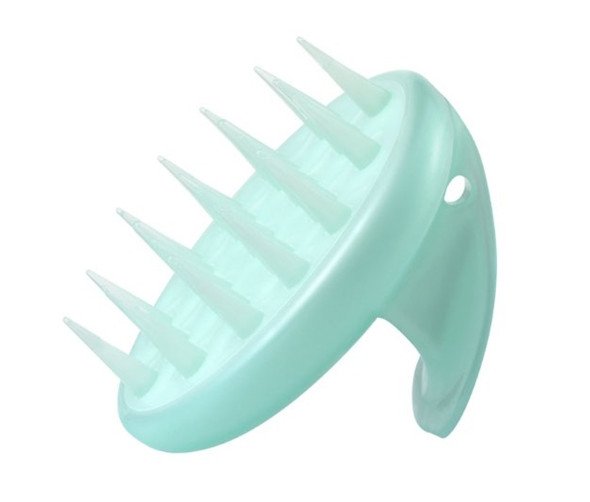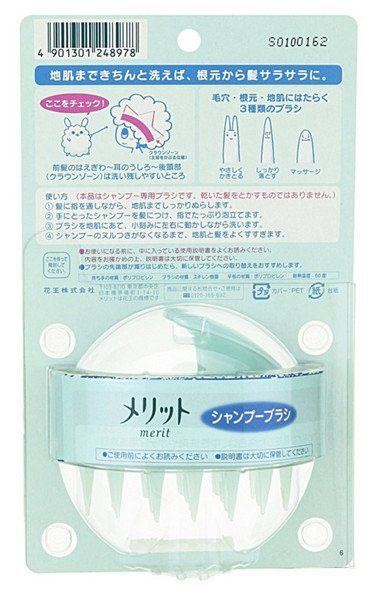 (4901301248978)
| | |
| --- | --- |
| SKU | 4901301248978 |
| Brand | KAO |
| Type | Hair |
Others Also Bought
More From This Category
Milbon - Deesse's Hair Treatment Mask 9gx4
From $12.50
KAO Liese 1-day hair monster dye 20ml
From $21.95
KAO Liese PRETTIA Bubble Hair Dye
From $15.00
Bandai Kids Shampoo & Conditioner 300ml
From $15.95