Shiseido ELIXIR WHITE Day Care Revolution SPF50 PA++ 35ml
Product Features:
★After applying lotion, use 1 bottle until "Evening" Glossy Ball Morning Whitening Milk
★Whitening & aging care *. After the skin lotion, you can use one bottle until the evening. In order to keep the impression of the morning where the "shiny ball" shines until the evening. Three effects of emulsion, makeup base, and protector in one.
★Contains whitening active ingredient m-tranexamic acid ** that suppresses melanin formation and prevents spots and freckles. Makes small wrinkles due to drying inconspicuous. (Efficacy evaluation test completed) The foundation and stickiness have been improved.
* Moisture care according to age
** Tranexamic acid Usage: After applying lotion in the morning, apply a 1-yen coin on your palm and apply it to the entire face, and layer on the cheeks that are easily affected by ultraviolet rays. (You can use it at the end of the morning care and then use the foundation.) * If the amount used is too small, you will not be able to obtain sufficient UV protection effect.
资生堂Elixir怡丽丝尔 新款银管防晒 SPF50
早上的皮肤保养尤其重要,这是抵抗皮肤的大敌(外因和内因)的重点!资生堂ELIXIR美容日用美白防晒乳液在早上的护肤液之后的乳液。 其独有的持久护肤技术保护肌肤免受外部因素的侵害,只需一支,不仅能在早上保护肌肤,还能使肌肤从早到晚保持最佳的状态。
产品功效
这款乳液有乳液、隔离、防晒三重功效。
美白成分可以有效的防止晒斑,黑斑的形成。
含有角质透明度成分,让肌肤保持高度的透明感。
产品特点
1 滋润保湿
高保湿效果,防晒同时赋予肌肤光泽与弹力。保湿滋润,助力肌肤维持在稳定的状态。
调理肌肤表面,使其柔滑,让肌肤不易呈现干燥所致的细纹痕迹。
2 高防晒力
多方位抵御紫外线,撑起肌肤"隐形遮阳伞"。
3 美白提亮
质地轻薄,作为妆前乳使用提亮肤色。抗氧化成分改善肌肤暗沉。
凝血酸成分抑制色斑部位的不稳定状态,缔造富有透明感的肌肤。
使用方法
早晨使用化妆水后,取1角硬币大小的分量,抹匀至整个脸部,使其融于肌肤。
在容易受到紫外线影响的脸颊等部位为中心叠加涂抹。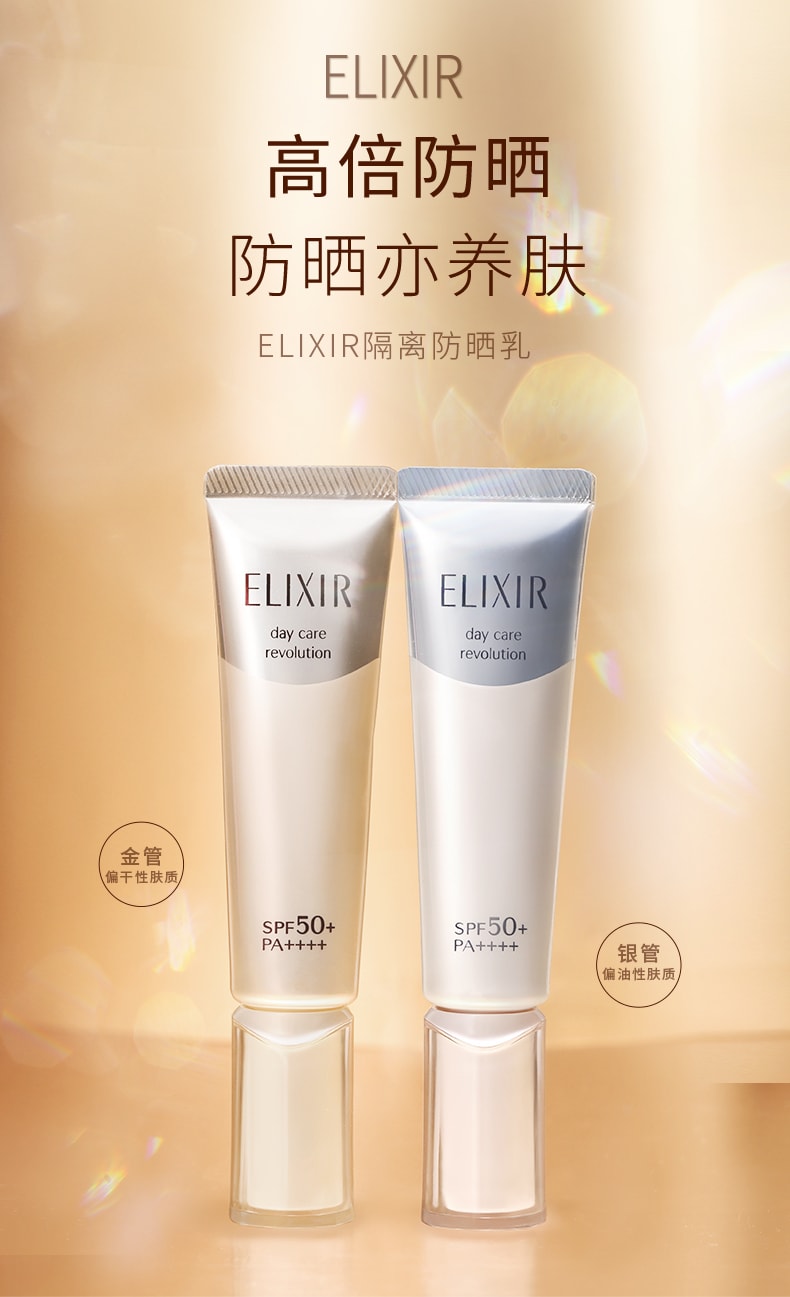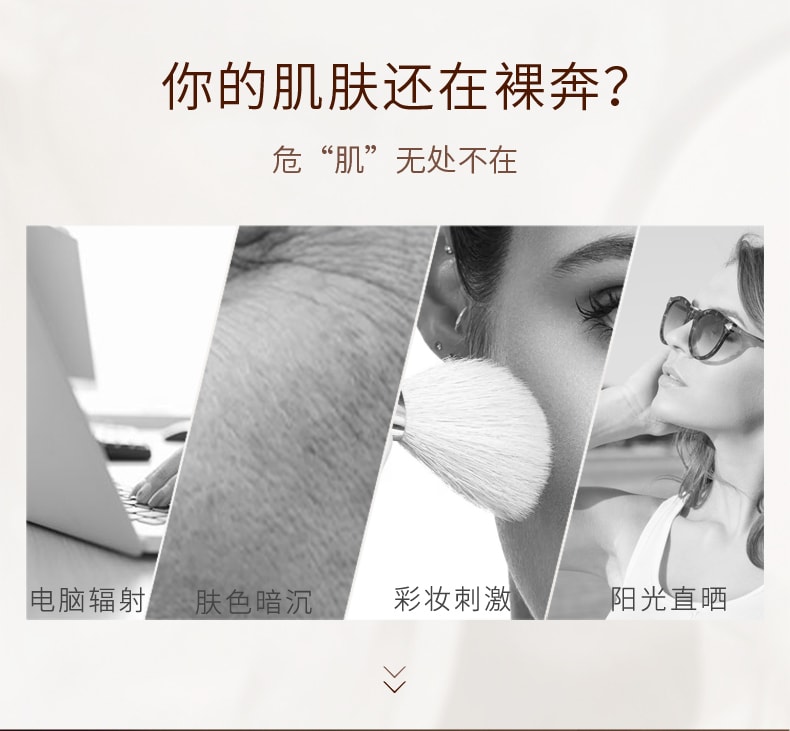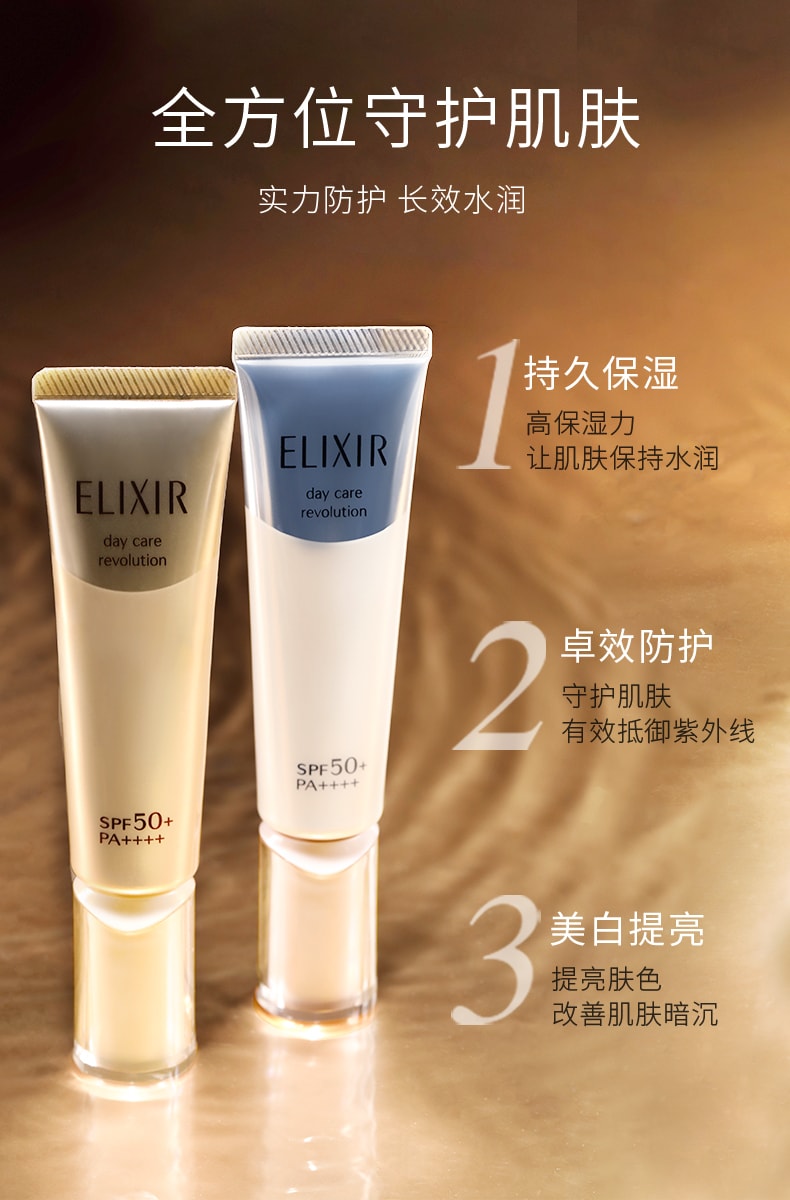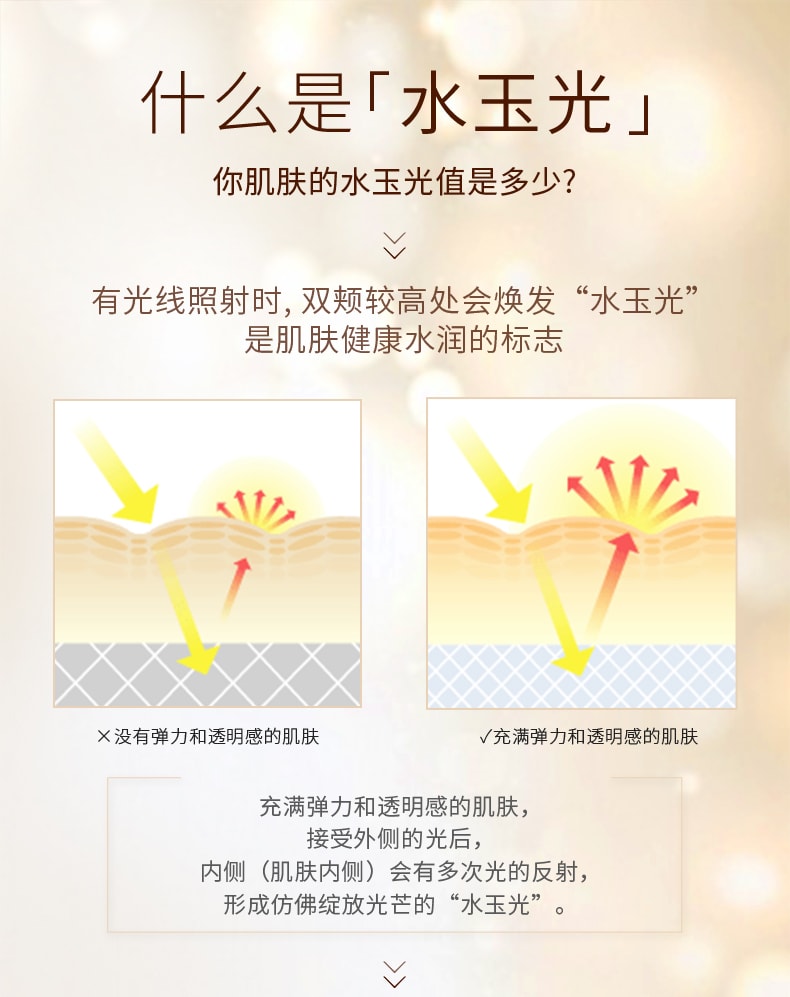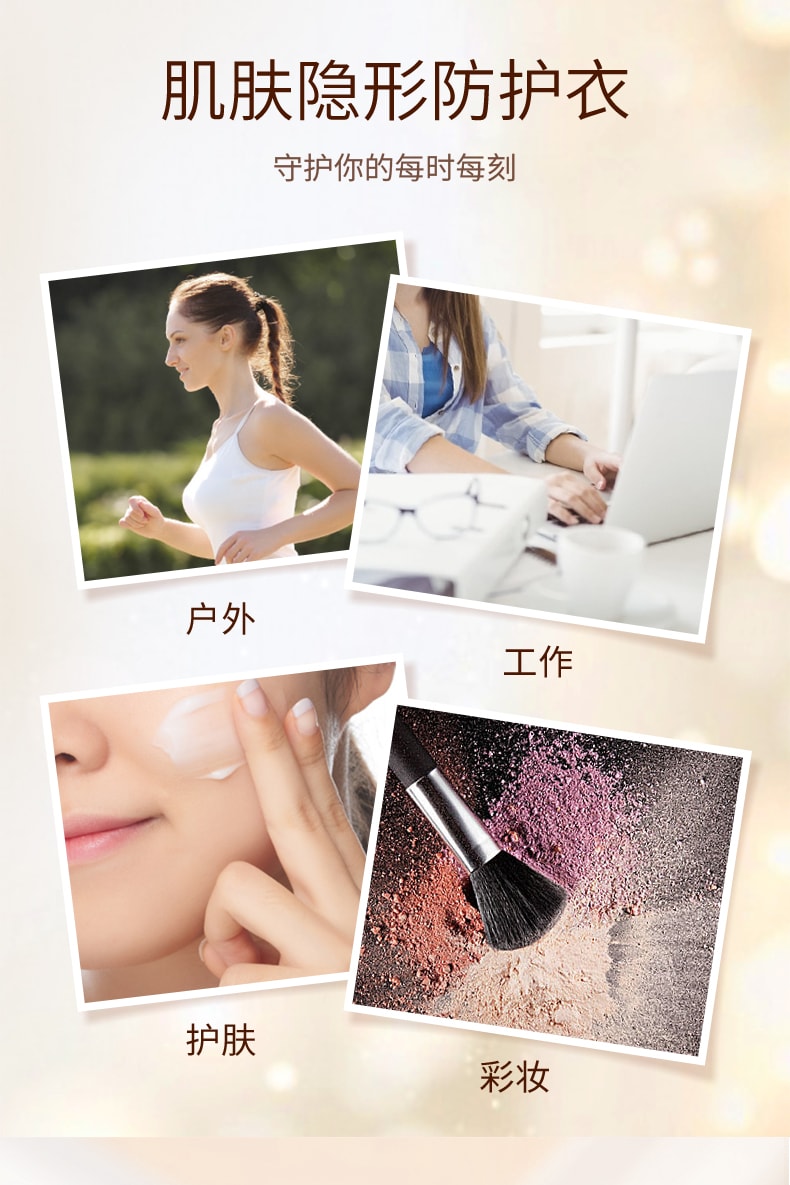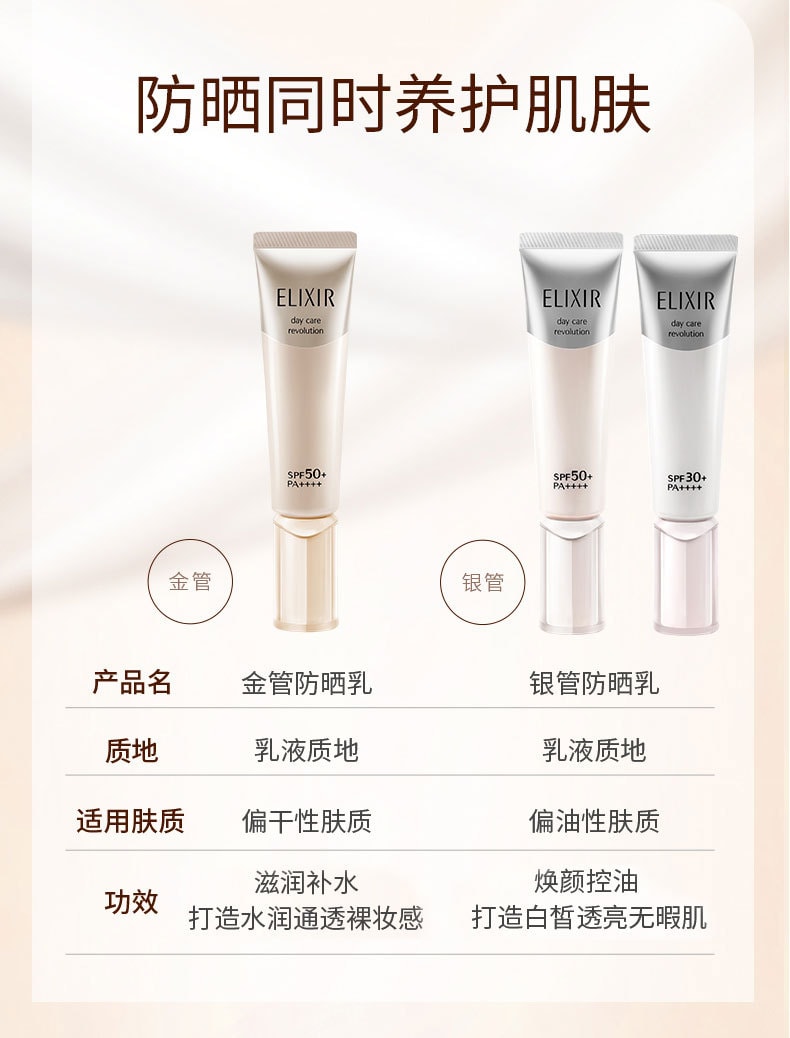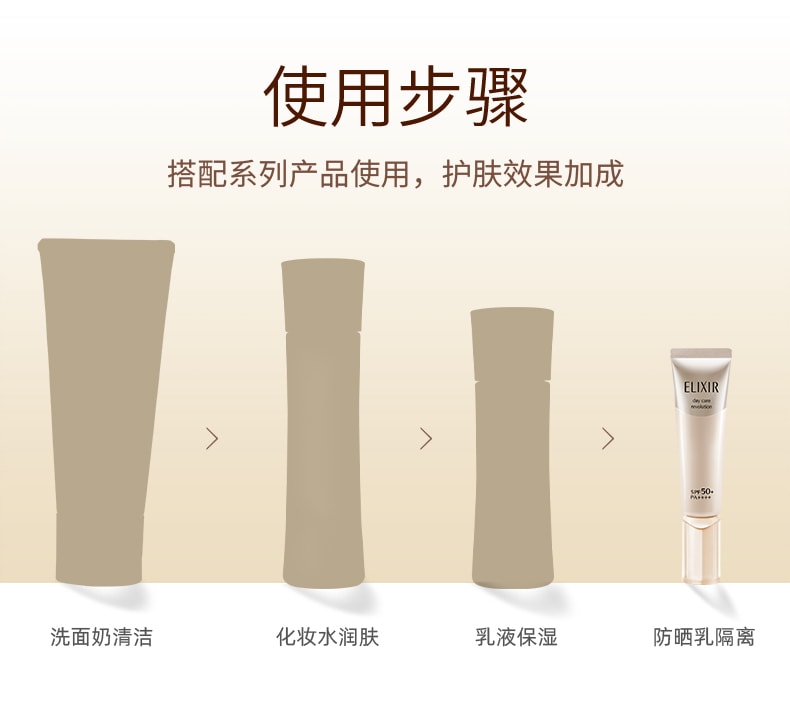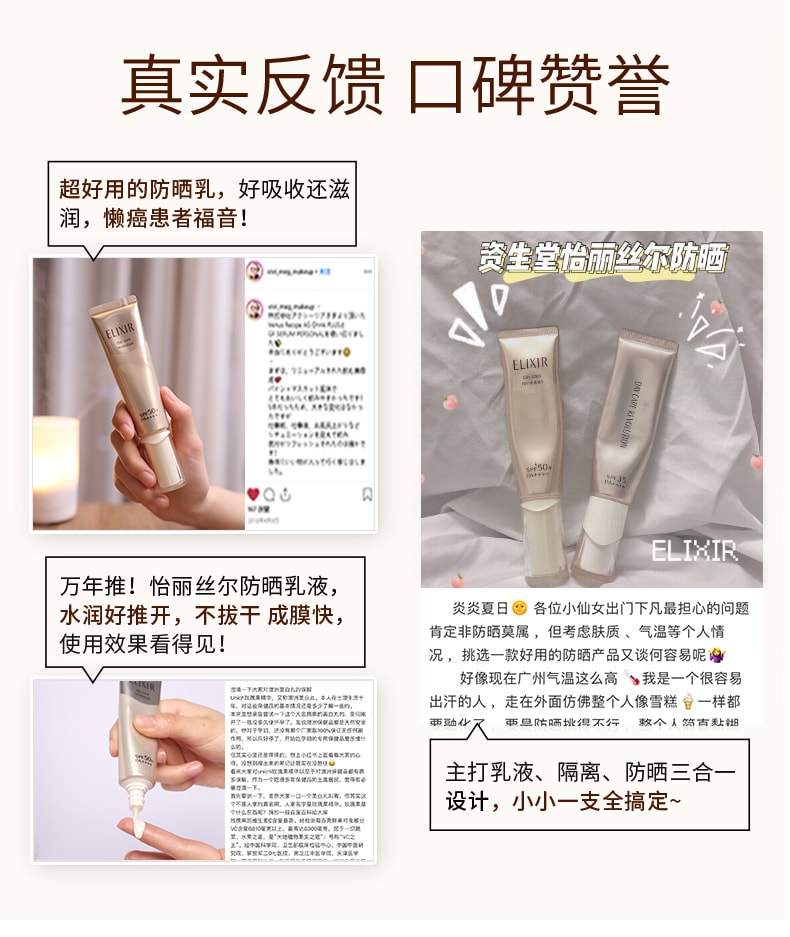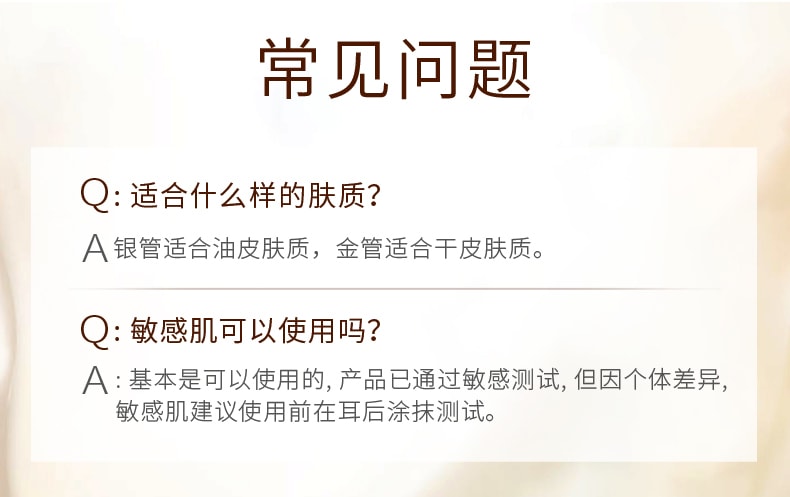 (4901872963478)
| | |
| --- | --- |
| SKU | 4901872963478 |
| Brand | Elixir |